Avenue 9 Analytics paves the way for hotels' reporting and business intelligence capabilities.

26th Nov 21
.
Amy Lightbody
.
Hospitality
At Click2Convert, we keep up to date with the ever-changing hospitality industry landscape and the new solutions that are presented which help resolve challenges hoteliers face.  
Avenue 9 Solutions
Avenue 9 Solutions is one of our preferred hospitality partners at Click2Convert. Avenue 9 Solutions consultants are hospitality experts who have been helping hoteliers source the best technology solutions for over a decade. They provide sector-leading consulting services to prominent UK and European clients in technology, product selection and project implementation.
During the Covid-19 pandemic, Avenue 9 identified and filled a gap in the market which would help hoteliers better understand their data. We were invited to attend the HOSPA hosted webinar where Avenue 9 presented their latest solution - Avenue 9 Analytics (business intelligence platform) and were joined by Paul Nisbett, Finance Director from Valor Europe - a client and advocate of Avenue 9 Analytics.
The Covid-19 pandemic forced many hoteliers to make a range of difficult business decisions, including reducing resources despite having to report on the same key metrics. The webinar showcased the Valor Europe case study and how Avenue 9 Analytics has given them a streamlined data solution that keeps all stakeholders informed during a particularly challenging period for the hospitality industry.
Avenue 9 Analytics facilitates enhanced business intelligence and reporting capabilities for hotels and the hospitality industry. This new platform has been designed and developed to provide hoteliers a cost-effective solution that is tailored to specific business needs, providing data visualisations and insights to inform timely operational and financial decisions.
The Goal
Many hoteliers were seeking a cost-effective solution to keep control of data without acquiring new resources. Avenue 9 Solutions developed software to streamline data to generate financial reporting in a timely and accurate manner, through Avenue 9 Analytics.
Valor Europe produced data manually across multiple property management systems and data feeds, and were seeking a solution to have one source of data that presented key metrics in a dashboard format. The goal was to give reduced staff more time to analyse the data, rather than spending time producing the data.
Paul Nisbett expressed the motivation in seeking a more manageable process for reporting: "We were actively having to look at the resources we have available to figure out how best to streamline processes so that we can still deliver the information to the hotels, leadership team and our investors...all of us had to produce numerous forecasts, numerous cash control mechanisms and everyone wanted to know what was happening every day in the business. The main challenge was producing timely, accurate information and delivering it from one source that could be provided to numerous stakeholders."
The Solution
Avenue 9 Analytics produces one output from multiple inputs, which is developed and adapted to suit each client's specific and bespoke business needs and goals. The solution allows integration with many hospitality applications and provides the most comprehensive analytics tool.
Mark Jelley, from Avenue 9 explained how they've implemented an automated and integrated solution for Valor Hospitality, he said: "As part of the project, we've implemented an awful lot of automation. Valor now gets automated feeds from all the PMS, and Avenue 9 Analytics now take a direct feed every morning from Sun Financials so that we can then produce all of the dashboards and distribute them to the internal team and the owners."
From operational managers to investors, all stakeholders have access to data relevant to their role. Paul Nisbett expressed one of the key decisions throughout the scoping process between Avenue 9 and Valor: "Whether you're talking to the revenue team, operations director, general manager or investors, that one piece of data is consistent in every conversation."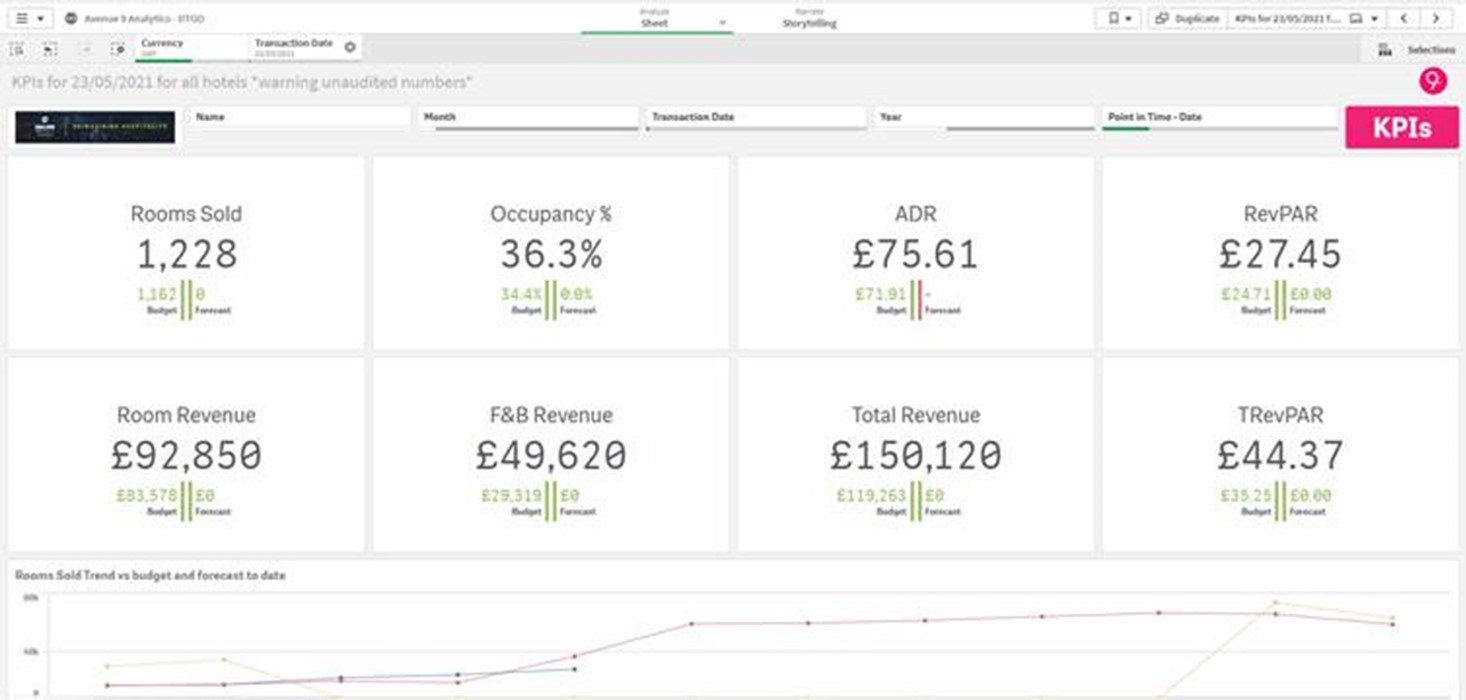 The Benefits
Valor Hospitality implemented Avenue 9 Analytics into their European hotel locations and highlighted the benefits it brought to their operations and stakeholders during one of the most challenging periods for the hospitality industry:
- The solution delivers simple, streamlined information on a daily basis.
- Having automated data provides instant access to trading results, which reduces time spent on internal communications, requesting and providing this information.
- Information can be easily controlled and access tailored to each stakeholder. Each stakeholder only has access to data relevant to their position.
- Stakeholders quickly adopt the new process into their roles. For example, managers can easily pull information for presentations and meetings etc.
- The team is able to spend more time doing their job, rather than collecting data and producing reports, resulting in higher levels of productivity.
- The team receives an email at a set frequency with a snapshot overview of KPIs and a more detailed spreadsheet attached, therefore can analyse and save the data however they wish.
- Data can be filtered and analysed in multiple ways, in order to be dynamic for all stakeholders. For example, information can be presented with multiple year-ends for different stakeholders and also  in different currencies, to suit hoteliers with multinational locations.
HOSPA's CEO, Jane Pendlebury reiterated the simplicity of the Avenue 9 Analytics dashboard and how this can easily be adopted by hoteliers and their teams: "It looks really simple and beautifully easy just to be able to drill down and look at what's particularly relevant. If there is something that's outstandingly positive or negative, it's great to drill down and figure out what that is."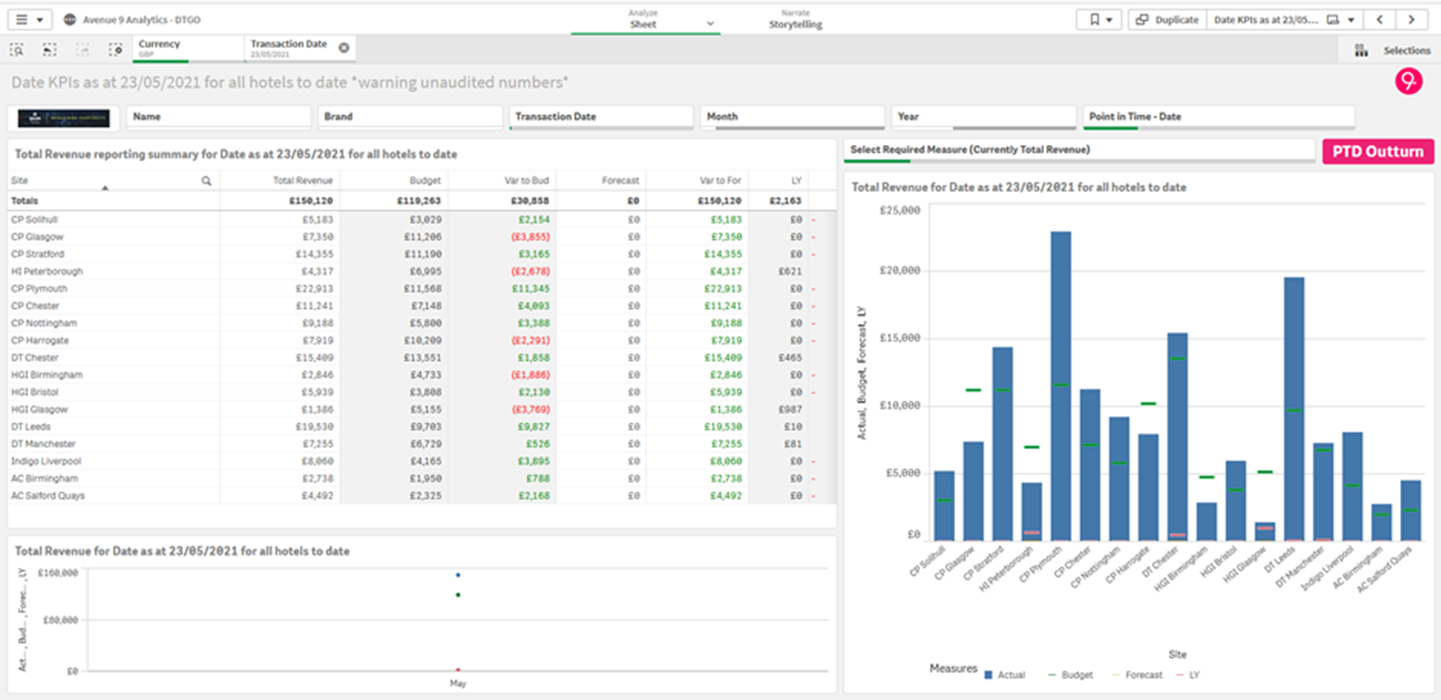 These core benefits have motivated Valor Hospitality to integrate Avenue 9 Analytics into more regions and divisions of the business. From operational managers to investors, Paul Nisbett expressed the benefits it has brought to the entire team, he said: "Immediately they are seeing the same report as everyone...and the speed we can complete months end has also massively increased… and the hotels have instant access to the trading results. You can see all your KPIs, all your trading and each operation manager can look at what's relevant to them."
Streamline your data
For hoteliers facing the challenge of complex reporting requirements, Avenue 9 Solutions provides a sector-leading business intelligence platform that will enhance business operations and meet stakeholders' expectations. Get in touch with Dale Nix at Avenue 9 Solutions today to find out more information about Avenue 9 Analytics or find out more about Avenue 9 Solutions at https://avenue9.solutions/. "We wholeheartedly recommend this and especially Avenue 9. There is real longevity about how we develop this because as you know, the team are flexible and we built this from the bottom up with (Avenue 9)."
Paul Nisbett
Finance Director, Valor Europe
Cut through the noise and


make your mark.