Helping Rockliffe Hall achieve a five-star experience online

19th Jan 22
.
Amy Lightbody
.
Hospitality, News, Web Design
Nowadays, almost every hotel has a website, but whether or not that website is effective at generating bookings and communicating information in a user friendly way, is an entirely different story.
With today's online consumers becoming more and more demanding, it is important that hotels provide an experience online that reflects the brand offline, with a solution that combines best practice usability, accessibility and creative visual design.
Rockliffe Hall is a five-star resort that delivers a luxury experience in the idyllic North East countryside, with an award-winning spa, Championship Golf Course, gourmet dining experiences and more. We collaborated with Rockliffe Hall to deliver a five-star experience, digitally, through a brand refresh and innovative website design and development, with a clear focus on the experiential elements of the resort.
We delivered a fresh, intuitive website with a fully integrated booking engine for all booking journeys, to achieve increased conversions and improve overall user experience (UX).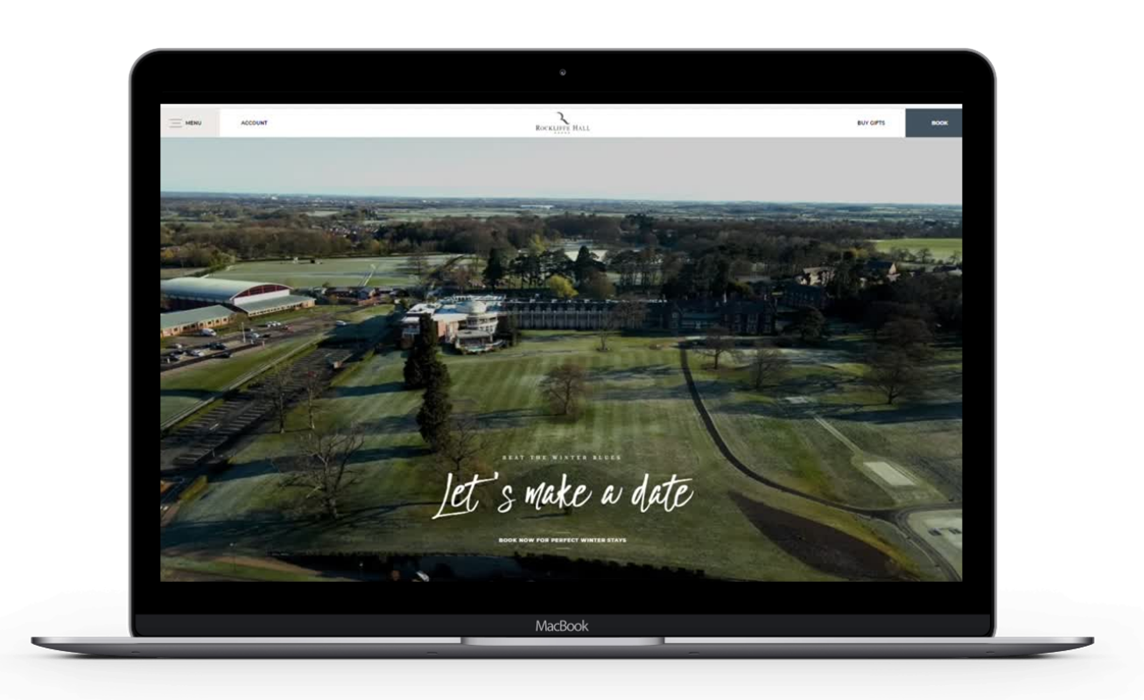 Brand Refresh & Improved UX
The design of a website is often the user's first impression of the brand, and should visually impress. In order to do so for Rockliffe Hall, our team revamped the existing, well-known branding, and elevated the logo, colour palette, and fonts, to portray a more luxurious, contemporary, and fun brand, both on and offline. Following the initial brand refresh, we restructured the information architecture to tell a story and showcase the unique resort offerings with a warm tone and easy flow.
With Conversion Rate Optimisation (CRO) at the forefront of our strategy; it was important to have a website with accurate messaging and clear calls-to-action, within the brand tone of voice, strategically placed across the website. Information across the site and booking engine provides clear, relevant information, while showcasing all that Rockliffe Hall has to offer; from spa and golf, to resort activities, wellness, and more.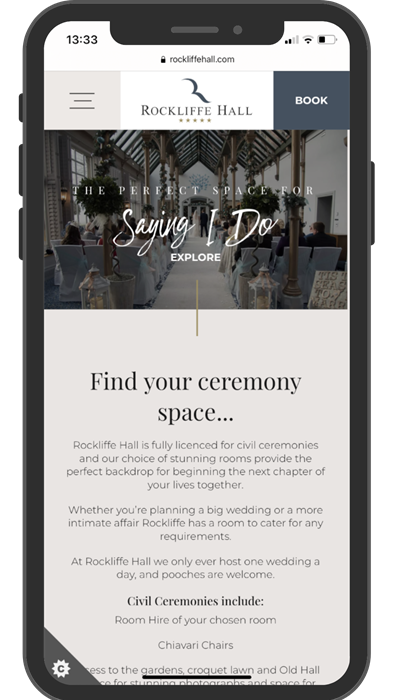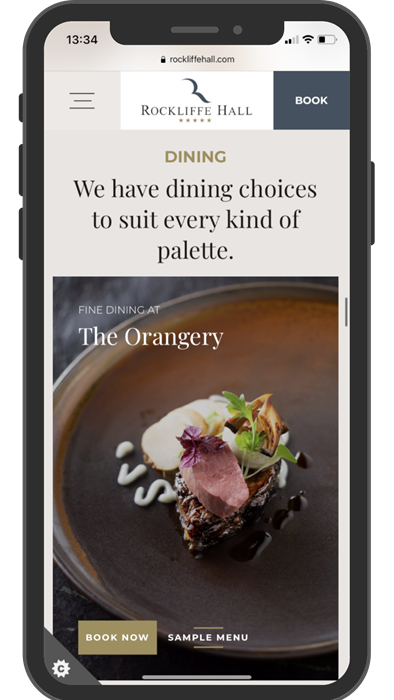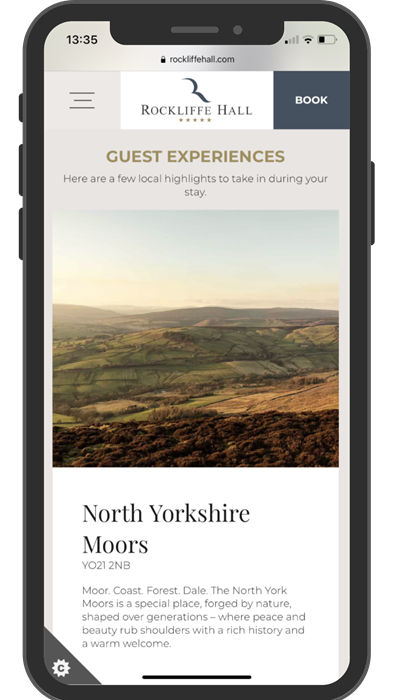 Bespoke Booking Engine
The project objective was to create a booking engine that offers full resort booking functionality. Developing against multiple third-party systems, the initial launch allows guests to book their stay with various packages and add-ons, and create bespoke itineraries, and we look forward to working on phase 2 of the project, where we will launch Golf and Spa bookings.
Integrating with Oracle's OWS and other third party systems, the bespoke booking engine provides users with an easy route to create an itinerary for their stay, with a calendar of live availability, throughout. Users are able to compare dates, packages and prices, with the ability to book a variety of add-ons, including dog stays, dinner reservations, champagne packages, and more.
Guests can choose to pay for their stay using monetary or experience gift vouchers. As one of the first agencies to use the new SKChase Gift Voucher Redemption API, our team of developers quickly got to work developing against the API to create a bespoke solution that provides a first class user experience, and works for Rockliffe Hall's business requirements.
The new user account area allows guests to easily manage their existing bookings and personal information, and offers a convenient booking route for returning guests, who can use their login to secure future bookings and avoid the need to fill out their personal details again.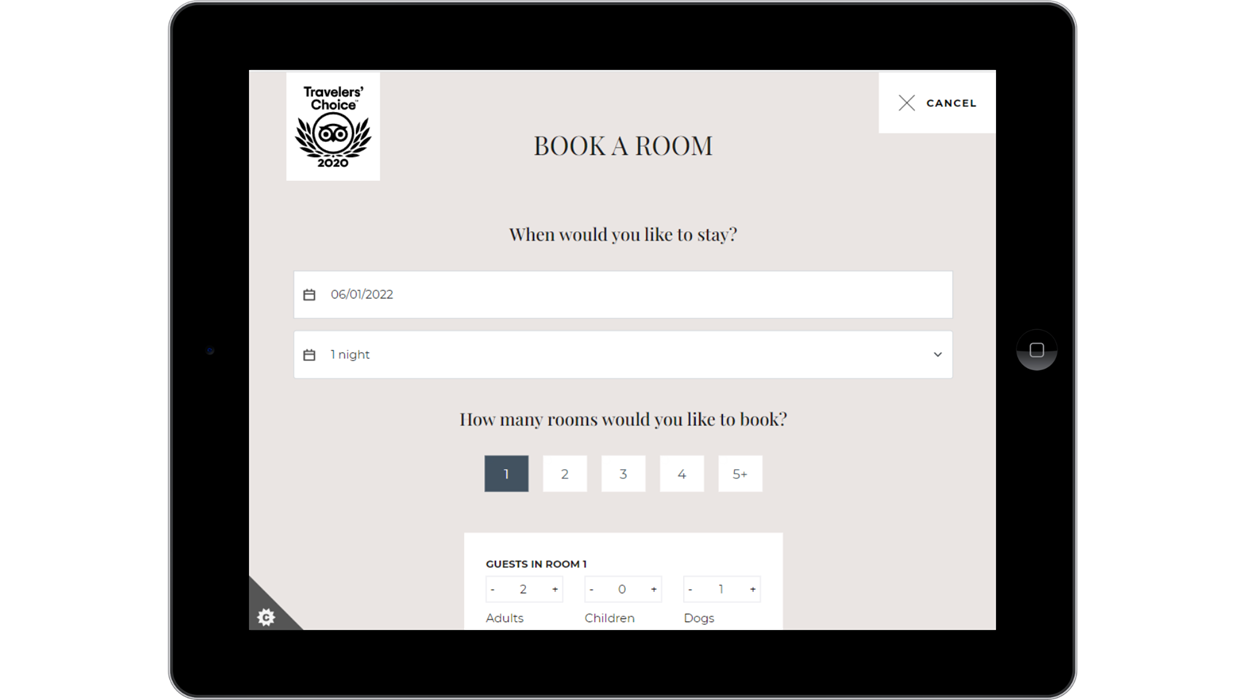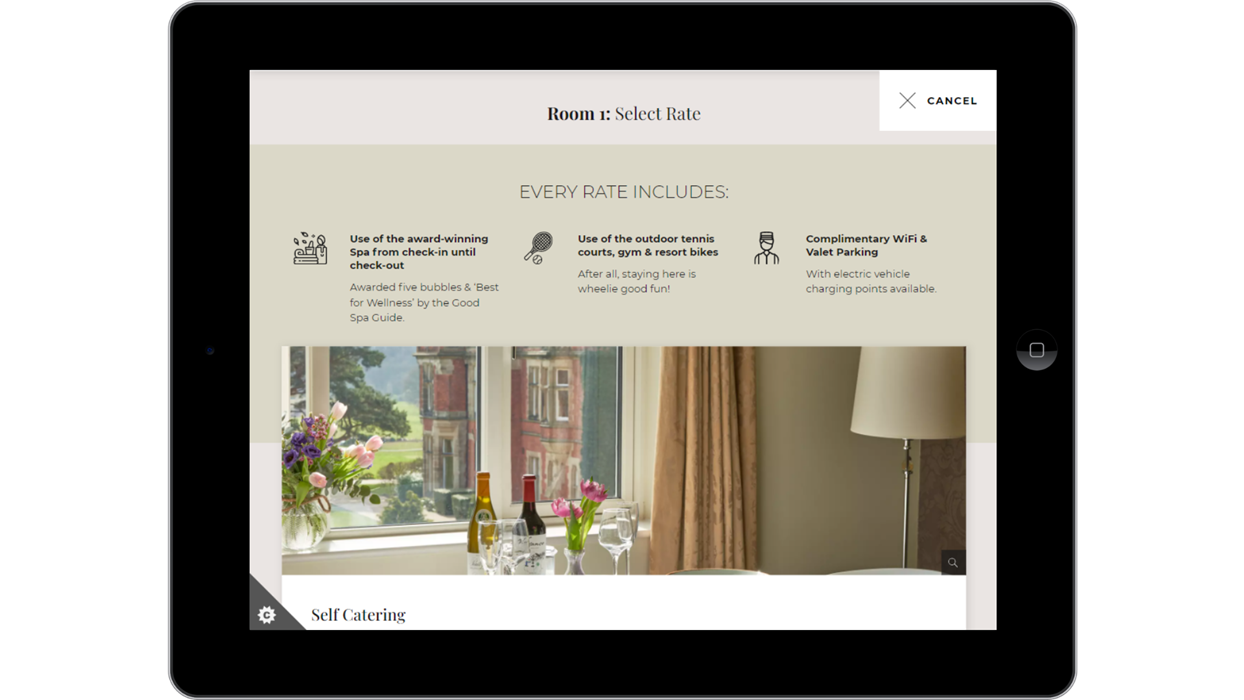 Content & Optimisation
The component-led design and build of the new Rockliffe Hall website uses the Umbraco Content Management System (CMS), and allows team members different levels of access to manage and update different areas of the site, including content, golf course information, blogs, forms and more.
Our team supported Rockliffe Hall by building the sitemap and landing pages across the entire site. Using different components, we created a variety of page layouts across the site to deliver an interesting UX, with the ability to develop the feeling of microsites throughout, using individualistic page designs across certain subpages, including the different resort restaurants, and the 'Discover' and 'Careers' sections of the site.
We combined branded copy with high quality imagery and video assets to create engaging website content that showcases the location and resort offering, delivering the five-star Rockliffe Hall experience online.
In order to optimise the site for search engines, we ensured that all the necessary SEO elements were included during build, and all content was compressed and resized during population to ensure an optimised user experience. Working with Rockliffe Hall's marketing agency, we implemented new on-page elements and a robust SEO migration strategy to prevent the loss of search engine rankings and traffic, post-launch.
What's next?
At Click2Convert, we're delighted with the solution we have delivered for Rockliffe Hall, and we're looking forward to launching Spa & Golf bookings early this year.
Discover Rockliffe Hall's new five-star digital experience, and browse the new website for yourself.
If you're looking to improve your brand's presence online, we pride ourselves in developing secure and robust websites with UX and UI best practice in mind. Working with APIs and other integrations, we deliver bespoke website solutions that maximise conversion.
Get in touch with us today to see how we can transform your brand.
Cut through the noise and


make your mark.