The impact of the cost-of-living crisis and the decrease of staycation demand on Scottish tourism
09th Aug 22
.
News, Hospitality
Across the world, the travel and tourism sector is said to reach over £7 trillion this year, only 6.4% behind pre-pandemic levels, giving positive signs of travel making a comeback. 
Due to holiday budgets gone unspent in previous years, it is predicted that 2022 is the year of the travel blow-out, with many seeking to spend big, and tick dream destinations off their bucket lists. From this, we have observed a dramatic decrease in the demand for staycations in Scotland and across the UK.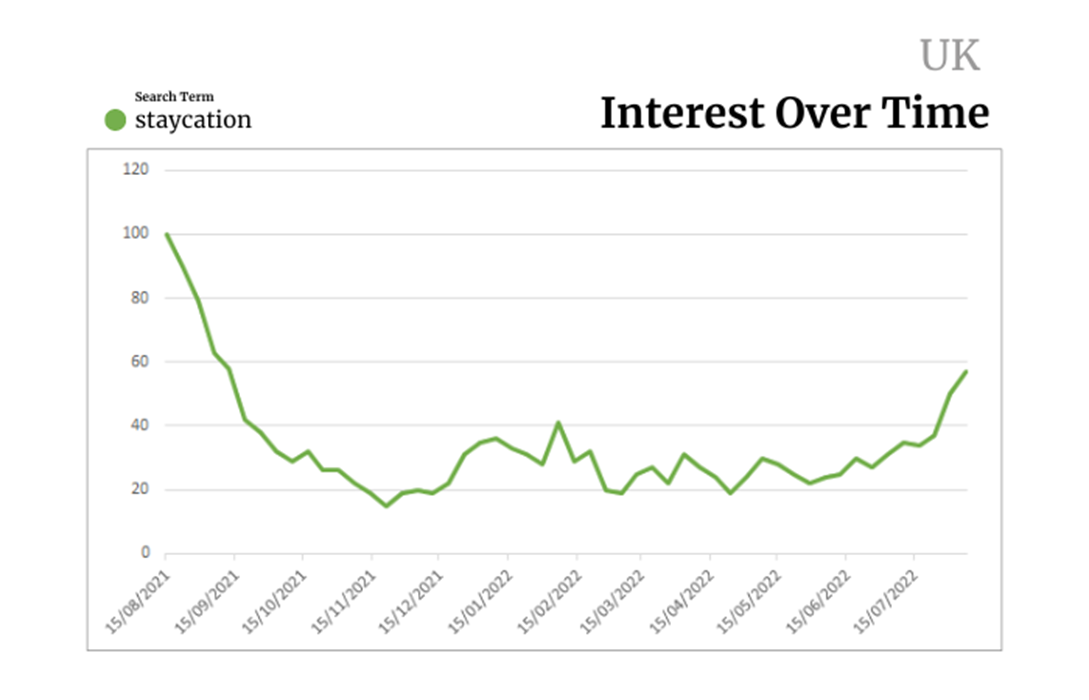 From this graph, we can see that staycation searches in the UK have steadily decreased over the last 12 months, and as predicted, UK residents are beginning to research holidays abroad again.
From the increasing appeal for outbound international travel, Scotland is struggling to compete with international hospitality sectors on price and value for money. At the start of 2022 there were positive signs of increased percentage of revenue from international markets, to make up for the loss of staycations, with some hotels experiencing up to 22% of total revenue coming from international users, compared to just 5% the year before.
However, due to the current rising energy costs, increase in supplier costs, recruitment and staffing troubles, and inflation; the level of recovery for Scotland's tourism sector has become more static than ever.
According to the Scottish Tourism Alliance:
- More than 30% of businesses are feeling uncertain about their long term recovery and survival over the next 1-3 years.
- 40% of hospitality businesses have reported a decrease in spending over the last year.
- 50% say they have noticed a decrease in bookings over June - August this year in comparison to May 2021.
Due to decreasing demand, hospitality brands in Scotland, and the rest of the UK, are seeking to optimise their marketing strategies to target those still seeking staycations in Scotland.
Scottish hotel group, Crerar Hotels, built a consumer survey to generate data on what their UK consumers are looking for in a holiday. This survey concluded that although lockdown breaks were represented by munro-bagging and hill walking, holiday-ers are now seeking relaxation and waterside staycations.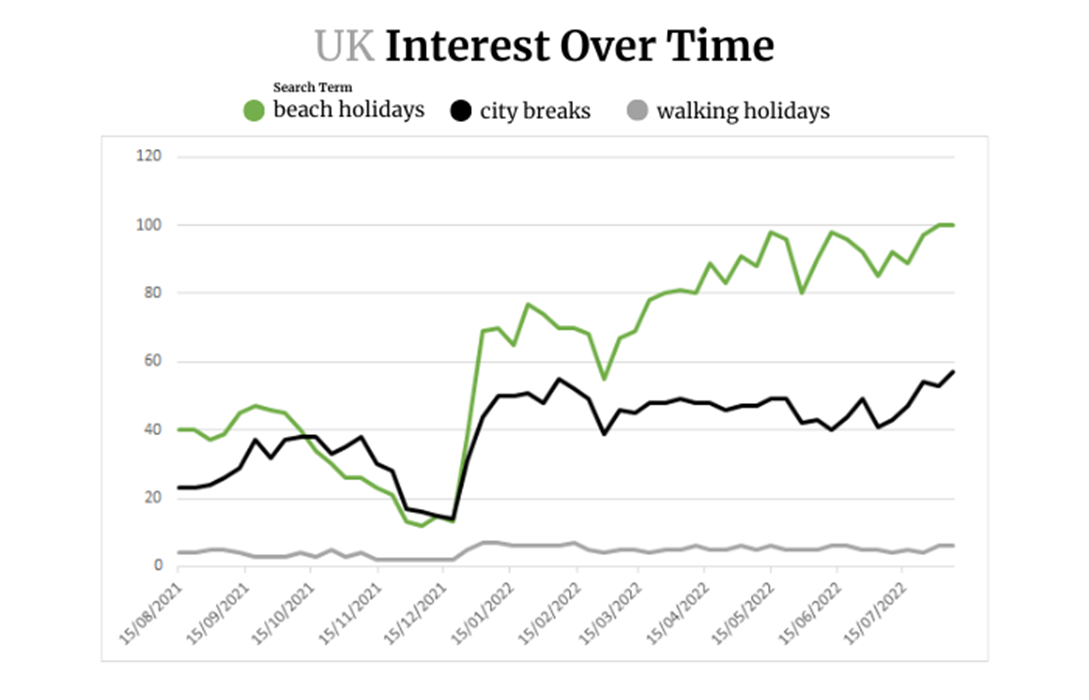 From this graph we can also see that beach holiday searches in the UK have steadily increased in the past year, overtaking the likes of city breaks and walking holidays.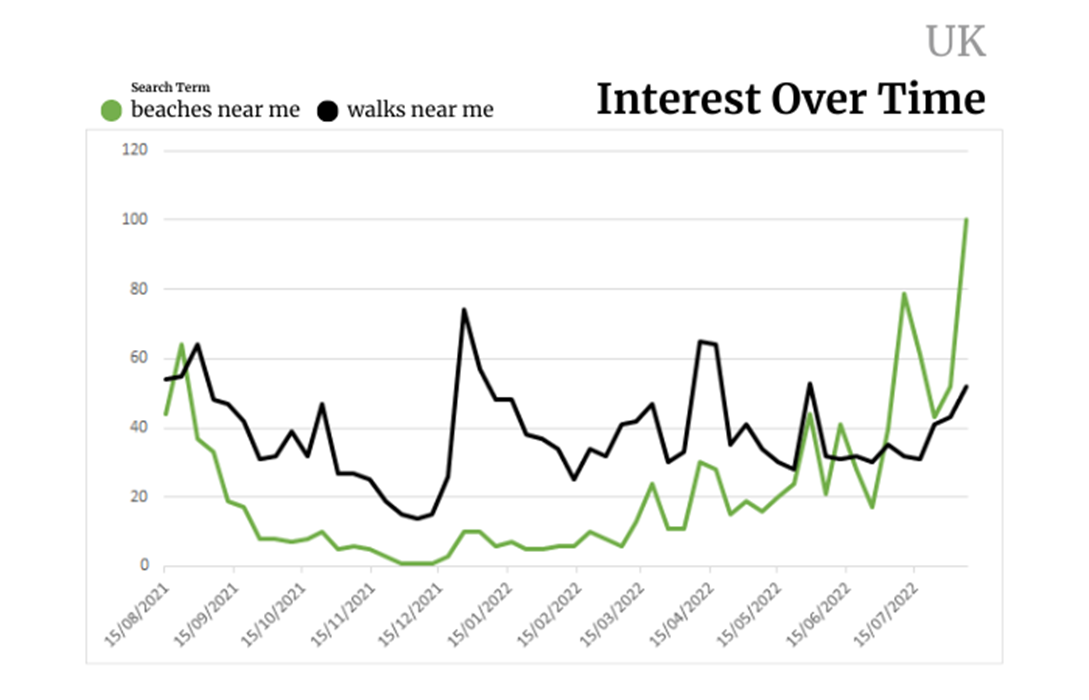 In addition to this, during the summer months of 2022, 'beaches near me' searches have spiked dramatically amongst UK users, overtaking the popular search term 'walks near me', shown above.
This, combined with the steady increase in 'travel agents' searches, 'all-inclusive package deals' searches and 'wellness breaks' searches, concludes that the UK population are seeking their 2022 holidays to be as stress free, and use as minimal planning, as possible.
Additionally, on a more positive note for the Scottish hospitality sector, this summer, there has been a trend for longer stays, with the duration of bookings almost doubling, indicating that holiday-ers are seeking to make the most of their break. However, due to the unpredictability of today's economic climate, users are showing a significant interest in hotels and holiday packages which have free cancellation, and last minute breaks.
This year there has been a shift towards the 'post-pandemic' phase of travel, where priorities have changed to relaxation and as little planning as possible. UK holiday-ers are opting for beaches over hiking, and wellness breaks over city breaks.
How Click2Convert can help
At Click2Convert, we understand the importance in staying ahead of the game to ensure our clients' digital strategies keep up with the ever-changing unpredictable climate we live in. We use our proactive expertise to implement profitable marketing strategies, to drive revenue and increase leads.
If you'd like to discuss how Click2Convert can help with your digital marketing activity, discover our services and get in touch today!
Cut through the noise and


make your mark.