Rockliffe Hall Web Design Case Study
In 2021, we collaborated with the luxury resort, Rockliffe Hall to deliver a five-star online experience.
The resort were looking for a brand refresh, and an innovative new website and booking engine to increase conversions and improve overall user experience (UX). The brief had a clear focus on the experiential elements of the resort, including their award-winning spa, Championship Golf Course, gourmet dining experiences and more.
Our Solution
Understanding the overall objective of the project, we implemented a robust project plan to deliver a website that combined creative visual design and best-practice usability, with a fully integrated bespoke booking engine for all booking journeys.
The process involved thorough scoping and collaboration with Rockliffe Hall to fully understand the brief and requirements. Our web design team then refreshed the existing branding and delivered desktop and mobile designs using our prototyping tool. Once the designs were signed off, the brochure site was built while our team of developers worked on the booking engine and other integrations. We worked closely with the client to test the website and booking engine at every stage, to review UX and UI and rectify any issues before go-live. 
Branding Refresh
Our team revamped the resort's well-known branding to portray a more luxurious and playful brand. We delivered fresh brand guidelines to drive the overall website design and establish the five-star Rockliffe Hall brand online and offline.
We elevated the logo, colour palette, and fonts, to ensure we create a positive first impression for online users. The colour palette included primary brand colours, as well as a secondary palette for the subsections of the resort and website, including Wellness, Golf, MICE, F&B and Weddings. This approach allows the users to immediately know where they are on the site, adding to the overall user journey. 
Design and Improved UX
The website was designed using asymmetry to add dynamism, encourage scrolling and provide an interesting UI, balancing aesthetics and effectiveness. Video loops that change from day to night can be used in banners, allowing us to show, rather than tell, why the resort experiences are so special. Illustrations across the website also add an artistic yet heritage feel to the brand.
The website hierarchy was tested rigorously to ensure access to key information was optimised to consumer needs. We restricted the options a user has at any point in the journey to ensure a manageable cognitive load, resulting in an easy-to-use browsing and booking experience, despite the wide variety of offerings. The full-screen navigation menu, with accompanying imagery and subpage dropdowns, allows users to explore the resort through an interactive UI, boosting user confidence with accessible information. Overall, the information architecture and navigation have delivered an improved UX, allowing users to easily explore the resort through their screen.
Website and Booking Engine Build
One objective was to create an innovative booking engine that offers full resort booking functionality. Integrating with Oracle's OWS and other third-party systems, the booking engine provides users with an easy route to choose packages and add-ons. With a calendar of live availability, the booking engine encourages users to easily build bespoke itineraries for their stay, with the ability to book restaurants, and will shortly include the option to incorporate spa and golf bookings as a Phase 2. 
Guests can now choose to pay for their stay using monetary or experience gift vouchers. As one of the first agencies to use the new SKChase Gift Voucher Redemption API, our team developed against their API to create a solution that works for Rockliffe Hall's business requirements, allowing users to redeem gift vouchers online.
We built a new account area on the website to allow users to review and amend existing bookings, update their personal details, and offer returning guests a convenient booking journey. Returning users are now able to use their login details and book without the need to fill in their personal details again.
With CRO and attention to detail at the forefront of our strategy; it was important to have a website and booking engine with accurate messaging and clear calls-to-action within the brand tone of voice. We collaborated with Rockliffe Hall to ensure high-quality assets were used across the website including professional photography, eye-catching videos, and memorable copy.
Using the Umbraco Content Management System (CMS), we crafted a component library that provides the client with a rich selection of components to build pages that fit neatly into the existing site structure, while remaining firmly on-brand and consistent with the established UX.
To optimise the new website for search engines, our SEO team ensured that all of the necessary SEO technical elements were implemented in the build, and all content was compressed and resized during population to ensure an optimised UX. We worked with Rockliffe Hall's marketing agency to implement new on-page elements and a robust SEO migration.
The Results
Post-launch, the improved information architecture, user-led design and CRO focus has helped to deliver an uplift across various KPIs. Compared to 2019, the new website has delivered -
46% increase in page views

85% increase in room bookings

204% increase in revenue.
Overall, we're delighted with the solution that we have designed and delivered for Rockliffe Hall, and we're looking forward to launching their Spa and Golf bookings in Phase 2 of the project.
Visit the Rockliffe Hall Website.
Website Visuals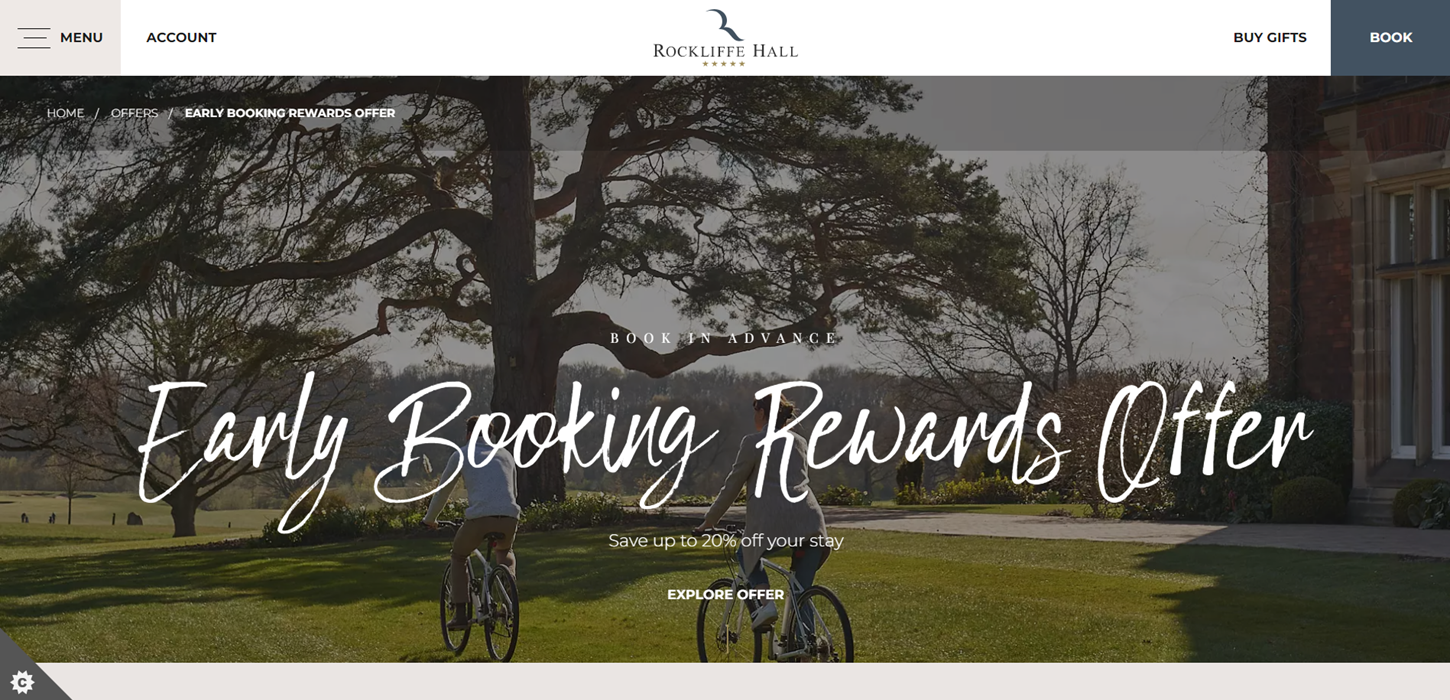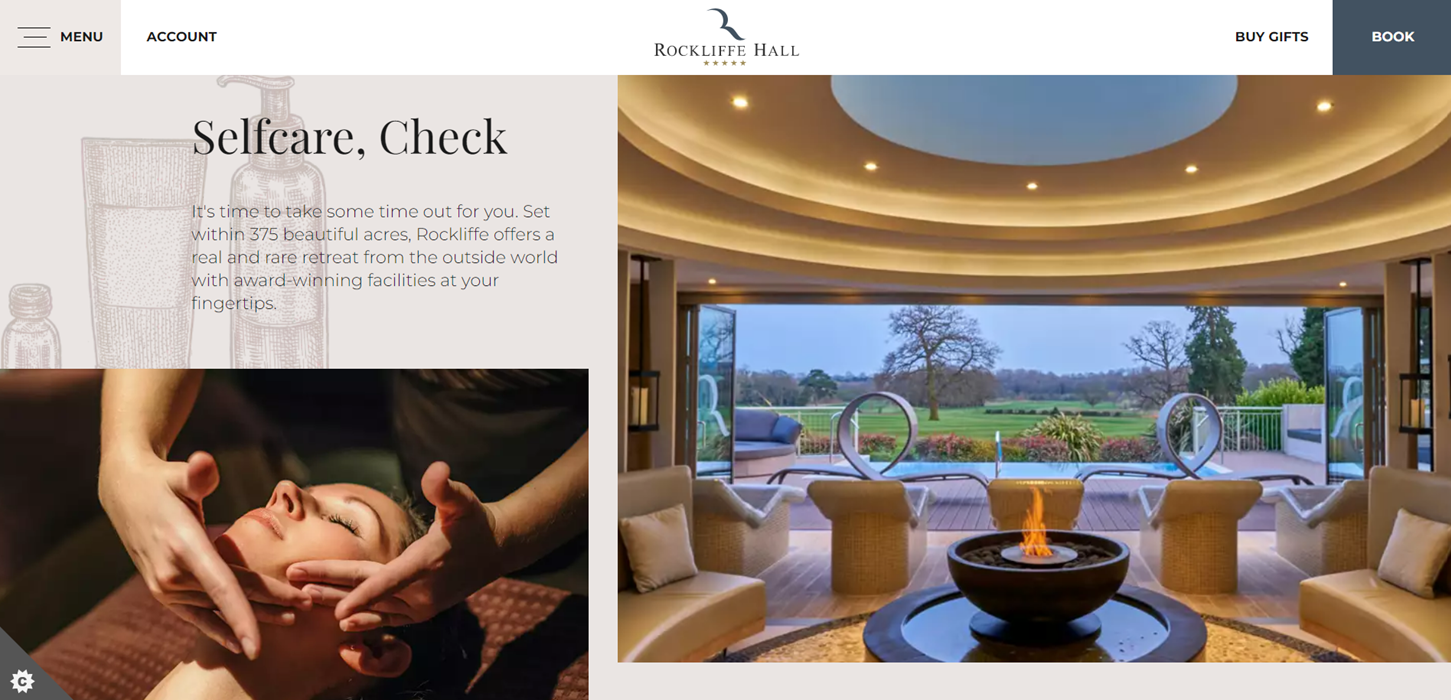 Cut through the noise and


make your mark.